So now you've got your press kits out there and have captured the attention of reporters, producers, journalists and key industry peers. What now? What have you accomplished? Now begin to craft ideas for the variety of outlets to secure unique placements.  Here are a few ways we capitalized on the 20th Anniversary of The Signature Room at the 95th.
1. Pitch Promotions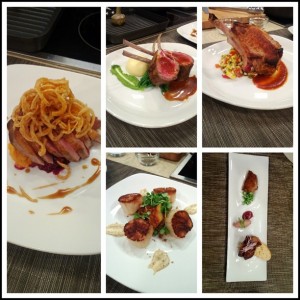 Something nifty about milestone events is that it makes it pretty easy to create promotions and deals. The Signature Room's team created a series of special offers leading up to, and during the anniversary month and our team got their key events in the news. The "throwback" pricing for the Signature Lunch Buffet was a hit. For $6.95, every Thursday in July guests enjoyed the bounty of the seasonal buffet menu and the results: sellouts each week. Here are some outlets highlighting the anniversary and this deal:
Dining Out Chicago June_July 2013
2. Spotlight on TV
Lucky for us, The Signature Room hired new Executive Chef Rosalia Barron just months before the anniversary. By combining those two happenings, we were able to secure TV segments showcasing the new chef as well as the 20th anniversary. We were given the opportunities to have Chef Barron cook for a live audience on Windy City LIVE, WGN's Lunchbreak and ABC 7. In these segments, she displays current dishes on the restaurant's seasonal menu, and demonstrates cooking a signature dish. Watch here:
3. Keep up Momentum
Cooking at the James Beard House in New York City is truly an honor, and we secured an October 17th date for Chef Barron and The Signature Room at the 95th as part of their 20th anniversary celebration.  Not only is this great exposure outside of Chicago, it allows us to capitalize on yet another event. A "Preview" dinner will be held September 22nd for gourmands in Chicago. They will replicate the menu and wine pairings for those that cannot make the NYC event.  Milestone events can propel your business and message to masses. This is your time to shine, so make the most of it.