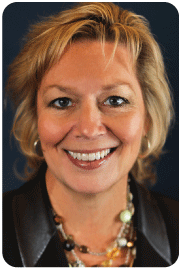 Kelly Wisecarver
With more than 25 years dedicated to marketing, advertising, and public relations, not many in the industry can claim Kelly's diverse background.
Prior to founding Wisecarver Public Relations, Kelly was founder and principal at two boutique public relations firms – wkpr, LLC with business partner Denise O'Handley, and Sage Marketing & Public Relations, Inc.
She served as director of sales and marketing for a prominent Chicago hotel for years, which garners her keen insight into the business side of her clients' goals – a side that gives her unique perspective and intuition on every project.
Much of Kelly's professional experience has been gained in marketing and advertising roles with some of the most well-recognized names in the hospitality, retail, and biopharmaceutical industries. Take a look at her dossier and you'll see names including Doubletree, Bloomingdale's, Oxford Capital Group, and The Magnificent Mile that count on her insider point of view.
Kelly believes in the power of networking, and is actively involved in the Greater North Michigan Avenue Association (GNMAA) and Vistage International, the world's largest CEO organization. She's also on the board of directors for the Ovarian Cancer Symptom Awareness Organization, and a supporter of numerous nonprofits including the Friends of the Japanese Gardens, and the ALS Foundation Chicago Chapter.
A self-admitted travel junkie, Kelly has trekked the globe from the Tetons to the Tasmania – and has written travel features for regional and national publications.